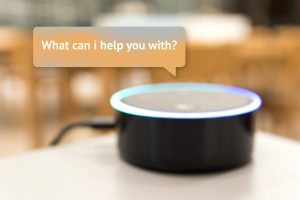 AI (artificial intelligence) assistants*, like Alexa, could better connect businesses with customers, and new features expand Alexa's reach.  Here are four Amazon updates for voice application developers that could change how businesses operate:
 1) Skills Recommendations
"Skills" are applications (apps) that let Alexa speak to devices, even websites, allowing users to perform more actions with voice-activated control and third-party offerings:
Amazon's "CanFullfillIntentRequest" interface checks location, so Alexa can answer questions like "Help me find a nearby carpenter".
Alexa can tap into its universe of voice apps with this interface, offering a new and growing way for local businesses to reach customers.
 2) Payments
Amazon accepts Amazon Pay for one-time payments or ongoing subscriptions:
Curation services that recommend local activities and offer to buy tickets could also help facilitate commerce and provide convenience for users.
With user location access extended to third-party voice app developers, businesses can complete the transaction loop by offering delivery.
 3) Notifications
Voice apps are bypassing some voice commands to interact with users through notifications:
Notifications can be sent via an auditory noise or by animating the ring of light atop an Echo speaker.
They're available for a select group of skills, including Domino's Pizza delivery updates, Washington Post news, and AccuWeather alerts.
  4) Voice Identification for Skills
If paying by voice alone, Alexa needs to understand whose credit card to use:
"Your Voice" by Amazon is a voice identification service that provides personalization: playing news flash briefings, adding events to calendars, choosing the right number to call, and logging a user's previous interactions with a game or skill.
Alexa can also remember whatever you tell her, including what you recently said.
Don't Fret/Forget! If you are a GSM client with business listings management, you are already listed on Alexa!  Since Alexa uses Google, Yelp and Bing listing data for local service/product voice searches, your business will be found if someone is searching for a service/product you provide.
*AI (artificial intelligence):  Conversational computers that people can interact with simply by having a conversation.
Source:  Venturebeat.com, reported by Khari Johnson.