Awareness is the first stage in the customer purchase funnel — a buyer must be aware of your product/service before making a purchase. While ROI (Return on Investment) focuses on sales, ROO (Return on Objectives) focuses on defining metrics, such as increased awareness, brand impact, and purchase intent. Awareness is an important metric to be measured as it can be a major asset when trying to influence purchase decisions.
STRATEGIES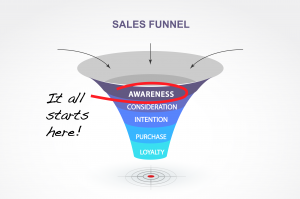 Strategies for how awareness contributes to driving objectives and sales defines the metrics used to measure effectiveness:
For short-term gain, generate a spike in awareness just prior to an integrated campaign; also, condition the target audience with awareness of key attributes that educates potential buyers.
For long-term strategy, re-position brand perceptions that builds awareness of advantages relative to a competitor, leading to higher preference, sales conversion, and loyalty.
METRICS
Awareness works well as a "diagnostic" tool to understand why other metrics, such as consideration, intention, purchase, etc., may be under-performing:
Place increased weight on your primary target audience since they are a good fit with your brand and are more likely to move from awareness to consideration and purchase.
Assess awareness among buyers currently in the purchase funnel, which is a better measure of effectiveness than from consumers not likely to buy for a long period of time.
MEASUREMENT
To measure ROO and ROI from awareness-building initiatives, design the measurement to understand customer behaviors:
Assess the short-term lift in engagement and purchase actions associated with increases in brand awareness; allow for a slight lag time using modeling or market testing.
Track perception metrics and your brand attribute ratings relative to competitors with ongoing or pre-post campaign surveys; closely monitor awareness changes relative to other metrics (consideration, intent, purchase, etc.).