Many internet marketing companies state that their services can get you to "number one" on Google, but do you know what is actually being done to get you there? Search engines have changed and "number one" cannot be guaranteed. Here is what you should know: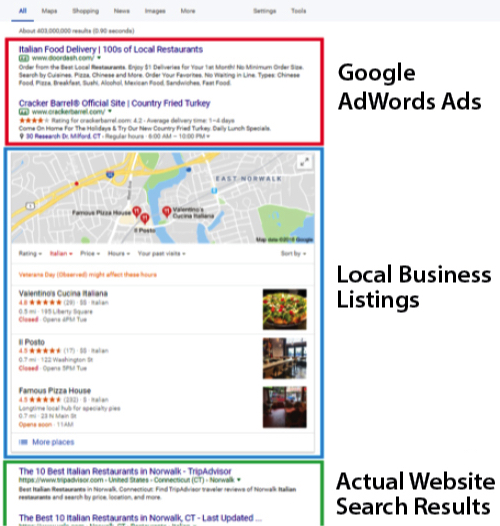 1. Getting to "number one" on Google isn't necessarily the best goal for local businesses.
The first position on Search Engine Results Pages (SERPs) are paid ads. This is what is being offered to you when you hear the line "we can get you to number one on Google" (see example at right)
People who search for local businesses tend to ignore ads, and scroll to listings and search results.
Searchers know that ads may be from national companies with no local presence in the community.
Nearly all clicks on ads are accidental during searches for a local business.
2. No one can guarantee that you will be "number one" on Google.
Google doesn't allow any website to be the "king of a keyword"; it's about showing searchers what THEY want to see, based on their prior internet activity and location at the time of search:
Google changes its ranking algorithms¹ frequently, so what worked previously, might not work today.
If your business/website was previously visited, you are more likely to be number one, or high up on the page, if that person does a search relating to your business.
You might be number one for those who live around the block from you, and number five for those who live one town over. Your position is NOT static even if it looks that way when you search for
your own business.
3. Google AdWords² is not Search Engine Optimization, so what is?
Search Engine Optimization (SEO) is about the content/structure of your website being tuned to peoples' searches, not about placing ads leading to clicks to your website:
The hit on your website through AdWords is not making it more "in demand" in the eyes of the search engines because the click did not originate from your website's link on the SERP.
Focus on actual SEO, so that the rankings you generate are real, with quality over quantity content that is relevant to who you want to drive to your website.
Come up with a specific goal, such as pushing a product, service or sale and keep track of results.
Local businesses should have a unique approach when it comes to SEO, based on industry, location, and other factors. Be wary of companies making promises before getting to know your goals. Being number one on Google is not necessarily the ticket to success anymore in today's digital landscape.
¹Algorithms: how social media platforms filter, rank and organize the content we see based on a specific set of criteria (prosperforpurpose.com).
²Google AdWords: An advertising service by Google for businesses wanting to display ads on Google and its advertising network. Businesses only pay when people click on ads; the service is largely focused on keywords. (webopedia.com).