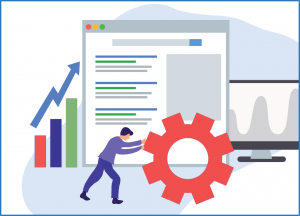 You may have noticed Google My Business (GMB) changed its name to Google Business Profile (GBP). Many local businesses manage their business information through this listing, as it provides easy access for new or existing customers to directly connect with small businesses. But what does this change mean for you?
Here at Growth Spark Media, our team of professionals has been monitoring the recent changes Google made. While we have adapted your business listings to these changes already, we'd like to summarize the changes and how it could affect your business:
NEW CHANGES FOR BUSINESSES:
Claim & Manage GBP Directly in "Google Search & Maps":

Google now allows businesses to claim and verify a listing through Search or Maps.
This makes it easier to gain access to the most integral information for your business.
Managing Multiple Locations through "Business Profile Manager":

Google is tailoring their Profile Manager to help both small and larger businesses manage their listings in one place.
This makes it easier for GSM to take care of your business information and adapt as your business grows.
NEW FEATURES FOR BUSINESSES:
Call History Tracker:

You can now manage your calls from Search or Maps through your Google Business Profile and stay engaged with customers.
The feature allows you to manage all your calls in one place, respond to missed calls and have a short message alerting you to the fact that a customer is calling directly from your GBP.
Customer Messaging:

Customers can message you directly so you can answer questions, tell your story and attract new customers.
Enabling the Chat feature through your GBP will allow customers to contact you at any time, driving further customer engagement.
WHY DOES THIS MATTER FOR YOU?
Google Business Profiles are the first thing a customer or potential customer will see when searching for you on Google. They look to the information listed there as a trusted source, and often times use it as a guideline when choosing when and how they will reach out to you. This update helps to bridge the gap between you and your online customers.
Growth Spark Media recognizes how important these updates are for you and your business. We're here to make sure you stay informed. If you have any questions about this update, or would like to work directly on one of these new features offered, please don't hesitate to reach out to your GSM representative!
Source:  SearchEngineLand, reported by Barry Schwartz