Statistics are important to look at when planning your social media marketing strategy, and can be used to benchmark performances within your industry.  The following information can help businesses set expectations when entering the social media market.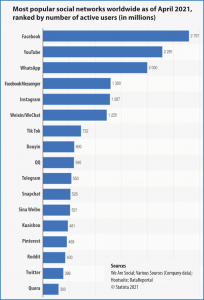 Social media usage stats¹
Social media continues to grow in popularity, as people keep track of family, friends and brands:
Globally, over 3.6 billion people use social media.
This number is projected to increase to 4.4 billion in 2025.
The top networks ranked by active users are Facebook, YouTube, WhatsApp, Facebook Messenger.
Internet users spend an average of 144 minutes on social media per day.
Facebook stats²
Facebook continues to be vital, regularly adding new features for businesses to easily interact with their customer base:
Facebook is the most used social network with over 2.7 billion monthly active users in Q3 2020.
The all-industry median benchmark for Facebook engagement rate per post is 0.09%.
Facebook has 10 million active advertisers in Q3 2020 and mobile accounts for 92% of its total ad revenue.
Links are the most commonly used content type, claiming 44% of all brand posts.
Consumer behavior stats³
Consumer use of social media is growing:  50% increased their usage in the last six months:
Consumers follow businesses to learn about products/services (57%) and company news (47%).
After following, consumers continue to engage: 91% visit websites/apps, 89% make a purchase, 85% recommend a brand to family/friends.
Consumers preferred content includes: images (68%), videos (50%), text-based posts (30%).
The top reasons consumers unfollow are poor quality of product/support (49%), poor customer service (49%), irrelevant content (45%), too many ads (45%).
Social marketers juggle challenges in an ever-changing landscape. These can include identifying/reaching a target audience, measuring ROI, or supporting business goals³. Being aware of social media marketing statistics can help you decide where to put your advertising dollars and how to make the most of them.
Your team at Growth Spark Media is here to help you navigate the industry and offer support. If you're interested in trying social media advertising, we encourage you to reach out to our experts!
Source:  Sproutsocial.com, written by Jenn Chen; ¹We are Social, Hootsuite; ²Facebook, Socialinsider; ³Sprout Social Index; ⁴11th Annual Content Marketing Survey: Content Marketing Institute/MarketingProfs