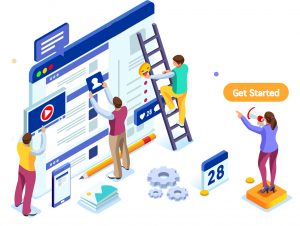 A website is your online business card. It's what customers see first when they look for your services. Trends are constantly shifting based on what customers want to see.
How do you know if your website in on-trend? Take a look at some of the most popular design elements for small business sites:
From Flat to 3-D (Again)
Gradients, drop shadows, video, motion graphics, scrolling effects, etc., bring new life to a website.
Add realism and depth to graphics, bridging the gap between the digital and the real world.
 Video Home Page Headers
Videos replace standard sliding images to convey a message and grab visitors' attention quickly.
Videos can run on auto-play, or be prompted to play, and text could be added over the video for further description.
Large, Attention-Getting Text
Large, eye-catching text has become front and center, with much smaller subtext as needed to direct users to additional information/actions.
Pair a video background with bold or large text to get the attention of visitors instantly.
Large "Hero" Images
Hero images are the main banners placed on a website*, on the home page and inner pages.
High quality, relevant images are key for this design.
 Responsive Design
Responsive websites are sites that are functional on any screen—no pinching and pulling required.
Non-responsive sites turn off users, and get penalized by search engines for not being user-friendly.
Micro-Interactions
Micro-interactions are touches which surprise and/or encourage users in an area of the website.
Notifications, text pop-ups or a button turning another color, etc., can help foster engagement.
Great Written Content
Quality content should focus on storytelling and communicating effectively with your audience.
Promote knowledge, products and services while implementing SEO** keyword research into your text.
Website pages should be accurate, easy to read, and full of calls-to-action to draw readers into the next step of your marketing/sales funnel.
**SEO (Search Engine Optimization):  methods used to increase traffic to a website by increasing its search engine page rank (techopedia.com).
Source:  OpenVine.com, reported by Kelly Thomas Mango; *omniconvert.com